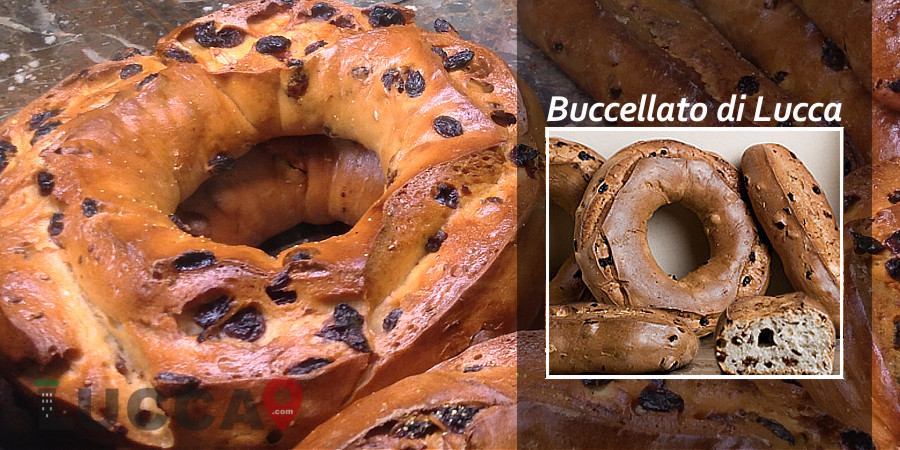 Buccellato
, Lucca ,
Buccellato is a traditional dish that is prepared in Lucca in all the homes. A buccellato is a circular sweet cake that is carried out from generations in Lucca and even other parts. The cake is supposed to be as large as a cart wheel and comes in a round ring shape. Today we find different shapes given to it to make it more attractive. The cake is dark brown in color and sweet with a gloss that is obtained from eggs and sugar coated to it. The exterior is a crust while the inside is soft and is filled with nuts and raisins and aniseed. When you come to Lucca you simply cannot move ahead without having tasted the delicious Buccellato. The locals of Lucca simply cannot celebrate their Christmas or New Year without a bite of the celebrated Buccellato. Since it is a traditional dish, the local have been making it for many years and is their specialty.

The cake
It is eaten throughout the year, especially during festivals and celebrations. This traditional sweet is standard confirmation gift from grandparents to the children. It has sentiments attached to it. The cake was first made in 1450 and was a typical dessert that was rich with raisins and so was loved by all. It contained eggs and sugar and dough that is baked together depending on the size of the cake. The cake is recognized universal, and that is why there is not just one version of it. Each family comes with its own recipe that is delicious and refreshing from one another. Some know it as a pastry while some call it the cake or bread. That is why the recipes also differ making it one of the most versatile dishes that can be enjoyed in many flavors. The shapes too come in a ring shape or a loaf.

What goes into it?
As you know, it comes filled with dry fruits like nuts, chocolate, candied fruits, raisins, dried figs and candied cherry and other things that enhance the taste. This is the filling that is most common or used traditionally. However, today we see different kinds of fillings according to the taste and favoritism. The outer part is the dough that is made with flour, sugar, eggs, essence, salt, honey, etc. The dough is spread and filled with the fillings of dry fruit and covered and shaped in a ring shape. It is later baked and then glazed to give it a shimmery look and decorated as well.

How do the locals make it?
What you need is the dried year, warm water, milk, eggs, sugar, unsalted butter, flour, raisins, anise seeds and salt. You need to bake the dish, and that is why you need a good oven. Now dissolve the yeast in water. In it Stir in milk, sugar, eggs, and butter. Now add half the flour, anise seeds, raisins and salt. Continue adding the flour to the mixture till you get a soft dough. Now place the dough in a plastic wrap and keep aside for an hour. In the pre-heated oven, you have to place dough that you should knead for at least 10 minutes. Roll the dough into a rope like a figure and then join the ends together. Now cover it and leave it to rise to double size. Now bake it in a greased pan, but before that you have to brush it with eggs and sugar so that you get the tempting brown color that is so attractive.
Bake it for 40 minutes and your "Buccellato di Lucca" is ready.

It is just like baking any other cake, but the shape gives it a very interesting look.

---