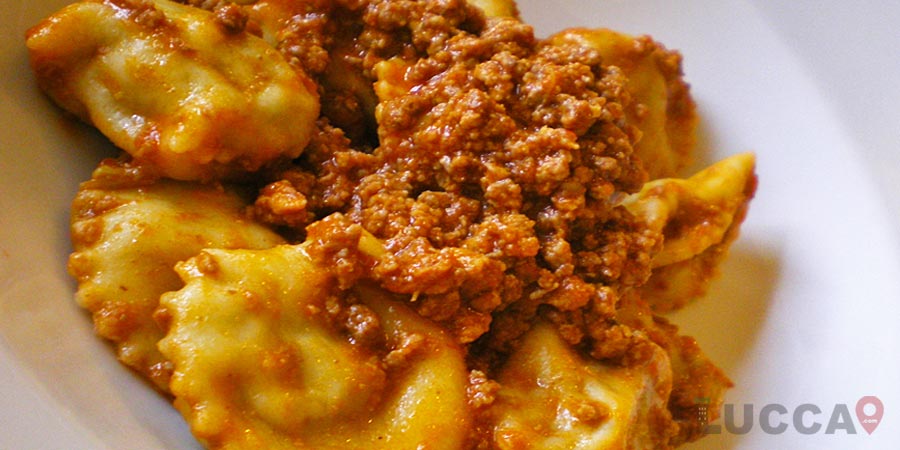 Tordelli Lucchesi
,
Where ever you go in Italy, you are bound to find tordelli that is a specialty here. Not just the restaurants, but also in the homes, you are going to find tordelli. Every home and every area, however, comes with its own recipe, and you can find delicious recipes in every different variety of tordelli.
Tordelli is a traditional dish that the prepare and relish since ancient times. Tourists love to have a taste of tordelli wherever they go as it provides a satisfying feeling and becomes a complete meal that is simply delicious. Although it does look like ravioli, the resemblance just ends here. Traditionally, the dish was prepared only on Mondays or Tuesdays. This simple dish needs more than an hour, and it is worth the wait. There are many recipes that are followed by the locals as well as those outside Lucca. The dish is quite versatile in the sense that you can make your own changes and add a few more ingredients or even reduce some ingredients. The dish will simply taste great.

What is "Tordelli Lucchesi"
It's a complete dish with a savory filling with added cinnamon and sage infused ragu. The pastry made with flour and eggs are typical Tuscan. The filling requires a few ingredients that one can buy easily here. It contains Swiss chard, stems removed, Italian bread, pine nuts, raisins, parmagiano grated, eggs, meat or beef or pork, spices, etc. the sauce preparation is also a lengthy process and requires a little experience with cooking. The cooked pastry with filling is dipped into the sauce to give it its unique taste. It requires a lot of time to complete the whole recipe, but the wait is worth it. This is the basic version of tordelli lucchesi, but there are various versions that one can try and enjoy as every version comes with its own specialty and is filling. The pastry comes with different shapes, and every region has their own shape that one can enjoy. The tordelli from Lucca comes with a semi-circular shape and has a delicious filling.

How to make it
There are three steps to complete the whole dish, and that is to make the pastry, the filling and the sauce and you are sorted. Begin by making a soft and elastic dough with water and eggs and dough it for ten minutes. To make it soft, you have to pull it, stretch it and fold it. Make balls and rest them for 30 minutes and cover with a damp cloth. Roll it out in circles and you can close it in half after you put the filling. The filling starts by frying whatever you have chosen for the filling like pork whole, veal, vegetables, eggs, parmesan cheese, spices mix well. The filling of tordelli should be boiled in hot water for a few minutes.
Now for the sauce, you will need onions, carrot, celery that is cut in small sizes and add olive oil to it and prepare the sauce. Serve the sauce in a bowl with tortelli layered on it. Now sprinkle parmesan cheese on top it and serve it hot. The taste is ultimate, and you will love it during your visit to Lucca.

Tourists cannot miss this opportunity to taste the famous tordelli lucchesi as it can be found in every restaurant easily. It is a whole meal that you will enjoy when you are site seeing here as most of the restaurants serve tortelli Lucchesi with many variations. It is fun to try out different recipes of Tortelli Lucchesi, and you can check your favorite recipe as well.


---