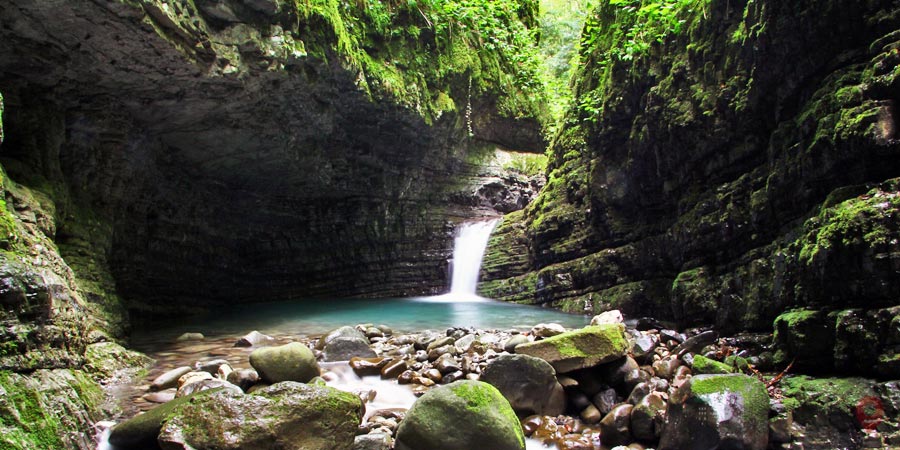 Orrido di Botri
Località Ponte a Gaio, 11, BAGNI DI LUCCA ,
The amazing gorge of Orrido di Botri
Orrido di Botri is a famous calcareous gorge that comprises of deep, steep walls that run as high as 200 meters. They look like the karstic canyon and make for a wonder view of the narrow valley that has been naturally created due to the eroding of the Pelago creek on limestone rock of the Apennines. The creek is a beautiful one with rock walls that are a rare and scenic beauty created naturally. This beautiful canyon is a beautiful mystery and is hidden in Serchio valley. You will find Bagni di Lucca which is a calcareous cave with the best fauna and flora you will find Botri to be a rare place and a bona fide wilderness. This is also the place where you can find animals that are rare as well. The place was founded in 1971, and the management is looked after by the state forestry corps.

The itinerary
Botri is a beautiful natural reserve where one can enjoy by buying a ticket and also wear the rented helmets. The trail is right in the stream, and the hike is quite exciting and full of unusual trails that will always surprise you. There are various routes that one can take to enjoy the hike in Botri.

1 Route: Ponte a Gaio – Piscina
The trek lasts for 2 hours and is an easy level trek and is good for even 6-year-old and above. Hiring a guide is not compulsory on this route.

2 Route: Ponte a Gaio – Piscina – Guadina
The trek lasts for 4 hours and is also an easy one where kids of age 6 years can carry with the trek easily. Hiring a guide for 2 routes is not compulsory.

3 Route: Ponte a Gaio – Rifugio Casentini – Rio Mariana and descent by ropes
The trek lasts for 7 hours and is a difficult level trek. The trekking is carried out only by adults who are well experienced in trekking. Carrying a guide is compulsory on this route.

What will you find here?
The flora here is truly rare with wild flowers and plants. There are rare herbaceous columbines, saxifrage, the champion and primula atrial and the tree species like beech, hornbeam, holm oak, wild linden, yew, laburnum, conifer leaves and more. The fauna is also admirable, and the wolf is one that is seen frequently here. There are other animals like hare, deer, fox, marten, squirrel, skink, porcupine are largely seen. The birds like a golden eagle goshawk, buzzard, sparrow hawk, kestrel, honey buzzard and more. The amphibians are also significant here and while trekking you can check the frogs and salamander easily.

Recreation and break
Before you go on your trek, you can stop at the entrance and grab a sandwich or something so that you do not get tired and are not starting on an empty stomach.
After a long trek, you will need to have a break, and you can find a bar in the piazzetta on the main road. A village is a quiet place where you can find good meals and snacks to end the day that was so full of fun.

How to reach?
Take the route of SS12 north from the city of Lucca and move ahead to Marlia and follow the sign to Bagni di Lucca. Turning to the right at 14.2 km take the SS445 and move towards Castelnuovo di Garfagnana. There are two roads to Botri. You can choose the one that is easy as you would not want to waste time. The easy route takes you to Fornoli from ss12 and later to Tereglio and Margeglio. Turning to the right, you get to Botri nature reserve.

Information
The reserve is open from June to September, and it is compulsory to wear a helmet. One can book in groups or at least 8 people. Tickets are available at the entrance, and one should buy them beforehand at the entrance itself. Guides too are also available if you want them.

---
How to reach Orrido di Botri
Start Location: