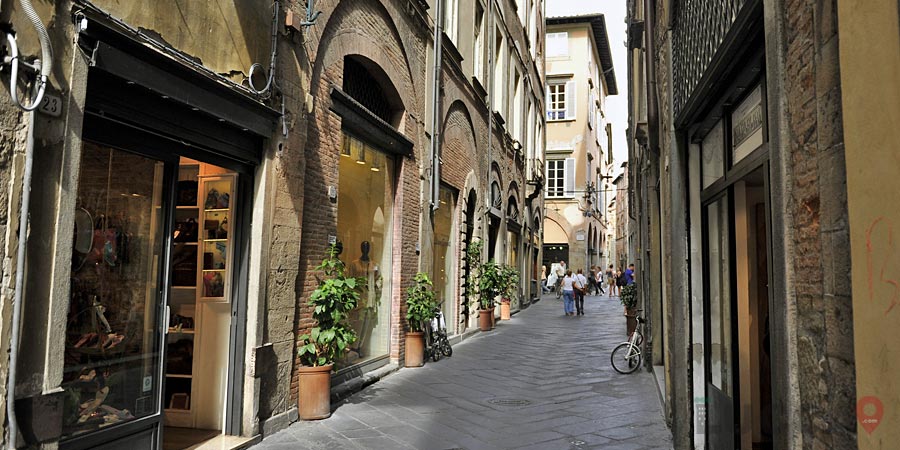 Shopping in Lucca
,
Lucca is a city from the medieval ages, and it has still retained its old world charm and the structures that are still intact even from the 8th centuries. The narrow streets and the ancient houses truly make for a unique setting in a modern world. The whole world is amazed at what Lucca has to offer to the tourists who visit here. Apart from the natural landscape and the historical monuments found here, one simply cannot miss shopping in Lucca.

Main shopping center
Lucca's main shopping zone is the elite Via Fillungo and the Via Santa Lucia. These shopping zones are the main centers and one can easily spend a good time here by checking out the various products that are in store here as well as the charming shopping streets that are lined up in the narrow lanes. Via Buia also is filled with various chic boutiques where you can find the latest fashion trends and clothe that are truly beautiful. Lucca is a great place to buy everything and clothes are one of them. The streets are ready with branded goods as well as non-branded ones as well. Just explore the old Roman road that is lined up with a variety of shops for every need. You get everything here. The evenings are more pleasant as you can see many people here chatting on the streets, dressed nicely and strolling while checking out new products in the shops. You can also have a great time bargaining at the local shops. You can also buy great chocolates and snack bar that are on Via Fillungo. The town has many friendly malls and street shops in the ancient structures that have even preserved the look.

Famous shops
Visit famous shops like Enoteca Vanni on Piazza San Salvatore 7, which is popular for the best wines, olive oils, liquors and food of Lucca. It's a unique shop that is an underground cave, and one can also get inside for wine tasting. Caniparoli in Via San Paolino 96 is a chocolate shop that is a must for chocolate lovers. Here you get various kinds of chocolate that are handmade. Forno Giusti in Via Santa Lucia 18/20 is a bakery shop and has its own bakery product recipes. One should buy bakery products here. Gioielleria Chiocchetti is a famous jewelry shop that offers various types of jewelry with gold, pearls, and precious stones. Cuoieria Fiorentina is famous for handicrafts and leather goods with are handmade and of the highest quality. Vissidarte is another famous shop for ceramics. You get the best ceramics here and is very beautiful too. The artisans provide very creative items here and very unique as well.

Street market
Street markets are also prevalent in the old town of Lucca, and you can bargain and enjoy shopping at very affordable prices. You get the best deals if you can bargain with the sellers. The products too are good, and you can buy something so that you remember the place when you get back home. Walking down the cobblestones narrow streets is fun, and you can also get a snack close by if you are hungry with all the shopping. You will love the leather handbags and belts and wallets at affordable prices. If you do not want to spend more in the shops, then you can try your hand at street shopping in Lucca. You find everything here right from groceries to electronic devices and clothes.
One can also enjoy the antique market that is held every third weekend in Piazza San Giusto, Piazza San Martino and more places. You can find some good paintings, furniture, and other items in the open stall.


---