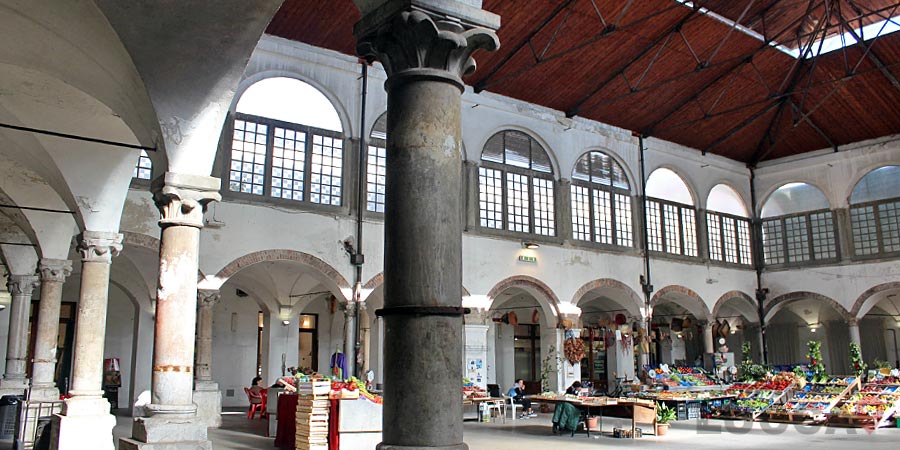 Piazza del Carmine
Piazza Del Carmine, LUCCA ,
Explore the markets of Lucca: Lucca is also great when it comes to buying vegetables and groceries. In Lucca, there is a good harvest of a variety of vegetables and fruits that are sold in the local market. The city also has many marketplaces, and some of them are quite popular as well. Every day the markets are opened up in different parts of the city, and people can buy whatever they need from here. One of the important markets is the Piazza del Carmine where you can find fresh fruits and vegetables here. The market is located in an old building that is situated across the Trattoria Gigi. The old building was actually a church which is now turned into a marketplace.

About the Market
The Market is in a huge closed building used as a church with large doors and windows. The doors are huge, and one can enter the marketplace through it to buy vegetables or fruits. Inside the market, the roof is quite high and due to the large windows with glass panels there is bright sunlight inside. The market is spacious with stalls that are arranged at various corners that are run by women. It was built during the Renaissance period, and it also includes a clock tower, and a part has been converted into a convent. The Market also has doors that open to shops which sell fish, chicken, and other products that are meant for regular use. It is a covered place that overlooks the neighboring streets and other shops as well. This is the place where you can get fresh and high quality vegetables and fruits. Although there are other places in Lucca to buy fresh foods, you can come here in this old building to check the fresh stock and also the building of the Renaissance period. For those who want to visit the market can come in the car as there is a parking space in front of the market. The market is open to public from 7.00 to 13.00 and from 16.00 to 19.30 daily except on Wednesday in the winter and Saturday in the summer

Piazza del Carmine
The square has many interesting places to visit, and some of them are the grand restaurants that you can check. Here you get the best wines; dishes of the local and have a good time watching the local people mingle with visitors and also the products that are showcased in every shop. You will enjoy the big square with the hustle and bustle of vendors with lots of products that you can buy at affordable prices. If you want to spend a good time in the old city, then this is a good place for indulging in various activities.


---
How to reach Piazza del Carmine
Start Location: